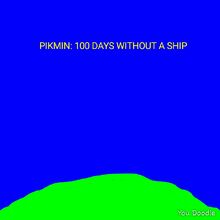 This game is when Captain Olimar and Louie once again visit the Planet of the Pikmin but the ship hits a tree and they fall out and need to survive till they find the S.S. Dolphin. It was released for the Wii U on November 18, 2012 and on the Nintendo Switch on March 4, 2017.
Pikmin: 100 Days Without A Ship
800
Rating
E
Genre
Adventure
Platform(s)
Wii U, NX
Media
HD
Publisher
Pikmin Fanon inc.
Release Dates
???
Creator
A Wikia Conbruiter.
Areas
[
]
Playhouse

Submerged Pond

Volcano Plateau

The Rustyard

Final Wild
Pikmin
[
]
Red Pikmin - Arbor plains
Yellow pikmin and winged pikmin - Aqua beach
Sand pikmin and blue pikmin - Swirly desert
Pumpkin pikmin - Haunted creek
Teeth Pikmin - Tangled Tundra
Black, Green, and Purple Pikmin - Sticky Swamp
White and Rock, - Playhouse
Glitches
[
]
Go in the Piklopedia and go to Ivory Candypop Bud, if a Pikpik carrot is thrown in the center, the Ivory Candypop Bud will turn into a White Pikmin and will be seen with every enemy until the pikmin dies.
[

]
Strange Noise
[
]
If 30 Yellow Pikmin are swarming a Spotty Bulbear in Challenge Mode, and if you pause the game when the spotty bulbear screams when death occurs to the bulbear, a strange noise is heard every time the game is paused in the level. The noise sounds like a low pitched chicken mixed with the noise heard when using Ultra-bitter Spray and the slide whistle noise when a Gatling Groink's motar shells are falling.
Underground Pikmin
[
]
Fuchsia Pikmin
Maroon Pikmin
Peach Pikmin
Cloud Pikmin
Antmin